This page is a work-in-process but eventually will have all of my favorite nail care/supply product information;
(♥) = one of my faves!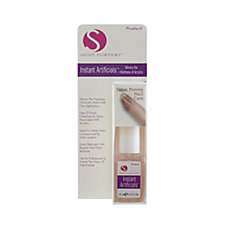 Salon Science - Instant Artificials (♥):
Alright now! This is the STUFF... Raise your hand if the main reason why you wear/wore "acrylics" was because your nails didn't chip? Well, I'm here to tell you that there's actually a science to all of this and it lies in the make up of acrylic itself. Find a basecoat that has acrylic in it and guess what, your nails won't chip.
Salon Science describes Instant Artificials as the perfect alternative to achieving artificial nails without the damaging side effects. Instant Artificals mimics the hardness of artificials with just one application. The results are visibly thicker nails with a polished shine! Easily removed with regular nail polish remover. Toluene, Formaldehyde & DBP free. What more can a girl ask for? This can be found at your local Sally Beauty Supply and is well worth, what some might call, a splurge.
Salon Science - Starting Over After Artificials (♥):
This, too, is found at Sally's Beauty Supply and I'm sure you can tell by how much I use this treatment that it has helped me through many manicures. IMO this is the best basecoat out there for troubled nails. I used this and Instant Artificials right after taking off my acrylics and haven't looked back. I love to use this when my nails need a little TLC. :)
Salon Science states that Starting Over After Artificials Nail Revitalizing Strengthener is fortified with Lecithin, Calcium, Panthenol, Vitamin E and Keratin Proteins to help restore strength to weak, damaged and fragile nails. It can be u
sed alone as a clear gloss or as a base and top coat on natural nails. Apply 1-2 coats to clean and dry nails that are free from all traces of oil, soap, or cuticle preparations. Nail color may be used. For best results apply an additional coat of Starting Over every other day. Remove after 7-10 days and repeat application.
Designer Perfect Eye Liner Brush (♥):
The fact that it's angled makes it versatile. I can clean a little (with the tip of the brush) or a lot (with the entire length of the brush).
The bristles are white, which makes it easy to see if there's left-over nail polish on the bristles. This is especially nice when using dark nail colors.
My favorite thing about this brush is that the bristle are very thin yet sturdy. Thin is important so that you don't remove too much polish and sturdy is nice so that you can really get in between the nail and cuticle area when cleaning
.
Ultra Smooth Ceramic Nail File
(♥)
: I found this at Ross, so I'm almost certain that this nail file is discontinued but similar files can be found at your local Sally Beauty and Revlon may sell a ceramic file, as well. But on to the reason I love this product. There's no ragged edges when using this file and it appears to seal the free edge very well, making the tips of my nails feel thicker and stronger.
Shine & Hold Top Coat
(♥)
: I found this at one of my local beauty supply stores. They created their own top coat and hands down it's on of the best top coats I've tried. This store is about 30 miles away from home so I only go whenever I run low and it gives me a chance to go to one of my favorite spots in the city. PM me to let me know if you'd like to add this to a swap; I'll pick up a extra bottle! :)
NailShine Miracle Top Coat (♥)
:
This item's claim to fame is that, "You'll get a salon-perfect manicure - up to 10 days. Exclusive Marine Complex Formula delivers time released Vitamin E and renews the shine of ANY nail color, day after day for up to 10 days. Fuses manicure layers into one high-gloss protective shield that resists wear and tear." Now I don't know about you but I want all of that to be in my top coat and then some. And from the first application, I can attest to the crazy-shininess of this product - the rest we'll see about. :)
Nutra Nail Super Base Coat
: Boasts of being "Enriched with breakthrough BioBond Technology to provide superior adherence and fabulous finish to even the worst problem nails, just one or two coats of SUPER BASE COAT nail-correcting formula is all you need to get gorgeous, super natural nails you'll love to flaunt, with or without polish, guaranteed."
Mega Shine Enriched Wear Top Coat (♥)
:
This is my very favorite Sally Hansen top coat and whenever it goes on sale I stock up. It dries shiny in the blink of an eye and doesn't get thick and goopy like others.
The website states that, "
Advanced formula dries your manicure from top to bottom in just 60 seconds - no more smudges!
Fuses and seals all your manicure layers into one powerful protective shield that resists chipping, cracking, peeling and damaging moisture and that m
icro-diamonds add mirror shine and strength." I agree with all of this!
Hard as Wraps Powerful Acrylic Gel Base Coat (♥)
:
I really like this base coat, however, it is very powerful so proceed with caution on this product. I alternate using this with my treatment bases.
Sally Hansen states that the, "
Patented breakthrough formula provides an instant, long-lasting, wrap-like surface for fragile, soft, torn, chipped or cracked nails.
Provides a clear, smooth, shiny finish!" So true...